Education
Highly rated elementary and secondary schools contribute to both quality of life and the exceptional labor pool. Greater Austin's public schools have consistently won US Department of Education Blue Ribbon awards for academic improvement. Austin area households enjoy diverse options in education from 29 public school districts, with 11 of them being top-ranked. As an educated town (82% of all residents have graduated from highschool, 35% have earned a bachelor's degree, and 11% have earned a graduated degree), education at all levels continues to be a priority to Austin.
Austin Independent School District (ISD) has approximately 85,000 students on 122 campuses and is the largest ISD in the region. According to the National Assessment of Education Progressm Austin USD students continue to have among the highest math, science, reading and writing scores.
Eanes ISD serves approximately 7,500 students at nine schools. Eanes students score well above the state average on the Texas Assessment of Knowledge and Skills (TAKS). And students' scores on the SAT and ACT consistenly exceed the state and national averages. Approximately 98% of Eanes ISD students have gone on to attent college in recent years.
Lake Travis ISD serves the growing area of Lake Travis and has approximately 7,000 students at 8 campuses.
The greater Austin area also has more than 50 private schools, ranging from private pre-schools to parochial high schools. Additionally, Austin has more than 15 charter schools.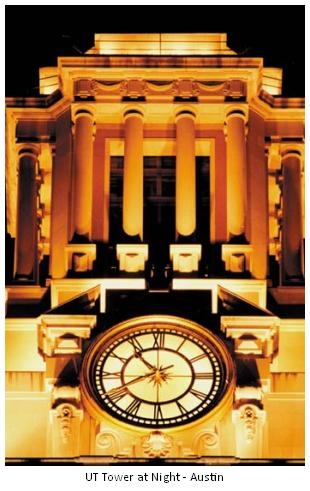 And while Austin is so much more than a college town, it is home to an abundance of higher education institutions both large and small. The University of Texas and seven other universities and colleges with a combined enrollment of nearly 116,000 provide an ample supply of well-educated workers to area employers.. Austin is also home to smaller private institutions, and Austin Community College is one of the largest in the nation. In addition, a dozen vocational-technical or career schools in the metro award associates degrees or certificates in business and computer-related programs, trades, engineering-related technologies, and health professions.
The four clocks of the University of Texas Tower are definitely an awesome sight. Standing directly under one, you develop an appreciation for how beautiful in design and tremendous in scale they are. Each face is over twelve feet in diameter, and that gold you see sparkling in the sun is a genuine gold plate. From up here you can really hear the Westminster chime striking the quarter hours and the hours on a three and a half ton bell that hangs in the square.